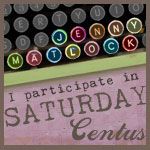 Welcome to week ONE HUNDRED AND FORTY-FIVE of Saturday Centus. Happy Groundhog's Day! I pay close attention to this day each year because both my father and my son celebrate their birthday on February 2.
The prompt this week is this question. What happens to Punxsutawney Phil when he retires?
Number of words: 100. You do NOT have to include the words of the question in your story.
Style of writing: Any
Additional Pictures: Any
The regular restrictions apply: PG, no splitting of the prompt, play nicely and visit the other entries, any style or genre of writing you prefer. Please display my link button or just a hyper-link back to Saturday Centus. Be careful to link your SC URL to the Linky and not just link to your main blog.
E-mail me directly with ???'s or ask your question in a comment and I will do my best to get back to you as soon as possible.
Feel free to link up any time between now and next Saturday...