So...you're probably going to need to turn the Halloween music off before you read this blog. OK, that's better. Now hum Silver Bells or Grandma Got Ran Over by a Reindeer. Are you in a more Christmas-y mood now? Good!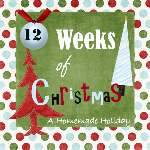 So this week we're supposed to write about some of our favorite foods at Christmas.
To be honest I don't think I can type that long.
So instead I thought I would share the recipe we take to our neighbors every single year. I make big trays of these crackers and then I package them in cute tins or jars or bottles or whatever. Then our Grand-kids run them around door to door...sometimes to actual applause.
One of our neighbors got divorced last year. The Grand-kids delivered the crackers to the wife who was still living in the house. The next day the husband came by OUR house to see if we had delivered them already! He begged until I gave him a big zip-loc baggie full.
It seems like everyone appreciates something not sweet for Christmas goodies.
These are called Terri's crackers (from my beautiful friend, Terri, who lives in Ohio) and they are super-addictive. I don't have a picture of them but they pretty much look like Cheez-its with seasoning on them...but they taste crazy good.
INGREDIENTS:
2 16 oz. boxes of cheez-its. I usually use the yellow and orange varieties. The pepper jack is almost too spicy
1 envelope ranch salad dressing mix
3 teaspoons dried dill weed
1/2 teaspoon garlic powder
1 teaspoon lemon-pepper seasoning
1/4 teaspoon cayenne pepper
2/3 cup vegetable oil
DIRECTIONS:
Place the crackers in a large bowl. Combine the remaining ingredients well and drizzle over crackers and toss to coat evenly. Transfer to two ungreased 15-in. x 10-in. x 1-in. baking pans. Bake at 250° for 45 minutes minutes, stirring every fifteen minutes. Cool completely. Store in an airtight container.