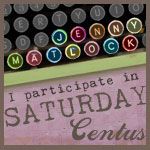 Welcome to week forty of Saturday Centus.
I'm going to continue to duck your hostility towards shake-up prompts by using another guest writer this week.
Miss Ames from
Girl Raised in the South
, kindly volunteered this prompt:
"It was growing bigger by the minute..."
Thanks, Ames. This is going to be a fun one to work with!
The usual rules apply...no pictures...100 words or less (not including the prompt), PG rated, and try very hard to visit all the links.
Which brings up this...
Two weeks ago I saw several posts that I was the only visitor to.
Please take a moment and stop by these links to say hi. I pride myself on good attendance for people who link so I don't want you guys making me look bad, OK?
Link 32
Link 33
Thanks so much!
You have the entire week to link your work to the meme and you can link more than one story if you like. Please try mightily to visit all the other weeks.
Please display link button or just a hyper-link back to Saturday Centus. Be careful to link your SC URL to the Linky and not just link to your main blog.
Please e-mail me directly with ???'s or ask your question in a comment and I will do my best to get back to you as soon as possible.
Link anytime between now and next Saturday morning.