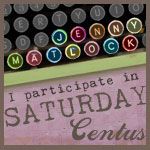 Welcome to week ONE HUNDRED and three of Saturday Centus.
I'm anxious to read last weeks links, but I'm still one week behind beyond that! But, hey, I'm getting caught up! Go me!
The prompt this week is: "Not for profit. For comfort..."
Number of words: 100 PLUS the five words of the prompt for a maximum word count of 105
Style of writing: Any
Pictures: As many as you like


The regular restrictions apply: PG, no splitting of the prompt, play nicely and visit the other entries, any style or genre of writing you prefer.

Please display my link button or just a hyper-link back to Saturday Centus. Be careful to link your SC URL to the Linky and not just link to your main blog.

E-mail me directly with ???'s or ask your question in a comment and I will do my best to get back to you as soon as possible.

Feel free to link up anytime between now and next Saturday!