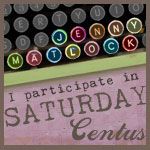 Welcome to week ninety-seven of Saturday Centus.

Hi. It's me. Jenny. Yes, I'm behind. Waaaayyyy behind. I have about 712 more boxes to remove from the pod in my driveway and then I will be able to catch up on SC's.

Mr. Jenny took me out for dinner tonight and I had a margarita. A whole one. All by myself.

So I'm feeling a little wicked.

So I'm going to give you a wicked hard challenge this week.

There is no prompt BUT there is a theme.

The theme is 'Good things come in fives'!



Your writing challenge is to write a story in fives. Five sentences consisted of five words EACH.

25 words. Five sentences. Five words in each sentence. 5 x 5 = 25

The regular restrictions apply: PG, no splitting of the prompt, play nicely and visit the other entries, any style or genre of writing you prefer.

Please display my link button or just a hyper-link back to Saturday Centus. Be careful to link your SC URL to the Linky and not just link to your main blog.

E-mail me directly with ???'s or ask your question in a comment and I will do my best to get back to you as soon as possible.

Feel free to link up anytime between now and next Saturday!