Kentucky Derby Pie Link 22? E-mail me. Your link doesn't work and I want to fix it for you!
Oskar the weiner dog's
stubby legs wobble.
As he runs through the house
looking for things to gobble.
He is not discerning.
He just doesn't care,
if it's kleenex or kids books
or mens underwear.
Green tomatoes from the garden,
Printer cartridges from the desk,
But getting to the garbage can
Is the thing that he likes best.
He's not too particular.
He's really not picky.
To Oskar the weiner dog
nothing is icky.
Oskar the fat, little weiner dog
is always ready to eat!
So if you come to visit me
you better watch your FEET!
This post is brought to you by the Letter "O" and is linked to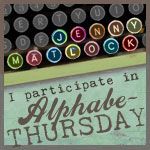 PS. No weiner dogs were starved in the artistic creation of these photos.