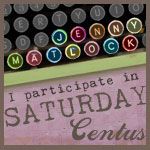 Welcome to week seventeen of Saturday Centus.
In case you've forgotten...
This is a themed writing meme.
Although each Saturday you are usually given a new "prompt" for the week, this week you will have an assignment rather than a prompt.
You have the entire week to link your work to the meme and you can link more than one story if you like.
Please display link button or just a hyper-link back to Saturday Centus. Be careful to link your SC URL to the Linky and not just link to your main blog.
I would suggest that since these are so short, if you can't think of a title just use your blog name as the title in the Linky.
Try to visit each one because they are tremendous and since they are so short they are definitely a quick read!
Please e-mail me directly with ???'s or ask your question in a comment and I will do my best to get back to you as soon as possible.
So, with no further ado here is the assigment for this week.
WEEK 17 ASSIGNMENT

Take any other SC stories (yours or someone elses) and using ANOTHER 100 WORDS...tell us the "rest of the story".

Please copy and paste the first story so we can read both entries easily.

So...

A 100 word story that tells the rest of any previous Saturday Centus!
This link will be live until next Saturday morning around 7 am. And please, remember to link to your SC URL...not your main blog. If you are unsure how to do this please leave me a message in the comments or e-mail me and I'll help you through it! Have fun!