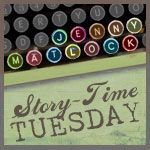 If you missed where this story started just
click here
to read it or click on the Story-Time Tuesday link at the top of my blog to take you to previous chapters.
Writing Fiction - Chapter 5
At the bottom of the stairs, the couch in the living room called to me, "Pearl, oh Pearl…I have lots of inane shows to share with you." I ignored it. It yelled louder. "Pearl! There's a 24-hour marathon of 'Little House on the Prairie' on right now." I continued past the doorway. Then I stopped. "Little House on the Prairie?" I mused, "Michael Landon, pioneer courage…" I started to turn back to the certain mindless comfort I'd find there, but then I remembered Jessie's hiccup and continued on to the kitchen.
Somehow all those tears I'd shed upstairs had cleared my vision. What a mess! What an absolute and total pigsty!
I rummaged through the junk drawer and found a list of phone numbers for city services. As I waited on hold listening to horribly cheerful muzak, I rinsed the coffee pot out. There was just enough coffee left in the bottom of the can to make a small pot and soon the rhythmic drips of brewing coffee accompanied the beat of the muzak. I yanked out the box of plastic garbage bags from under the sink and started stuffing empty pizza and bakery boxes into one. It filled up quickly. Just as I started on bag number two, some lady cut into the muzak to say, "This is Sheila. How may I assist you?"
At first I almost said, "Sheila? How can you assist me? Honey, how long do you have?" But I had a plan. And I needed to get to it. "Listen, what day does the recycle truck pick up?" And she told me. Just like that I knew what day to haul the blue bin out to the street. After I thanked her, she asked me, "Is there anything else I can help you with?" I quickly offered up a "No, thank you" while thinking, "Oh Sheila! Can you come over and open some bedroom windows for me?" Sheila did sound really nice. I wondered if she had a blog. I should have asked her.
The coffee finished brewing. I half-filled my 'From Texas with Love" mug with fat-free Half and Half and then topped it off with bitter brew. Shoveling the rest of the garbage into the plastic bags, I then threw them onto the back porch, wiped off the countertops and kitchen table and fixed myself a package of instant oatmeal. It wasn't very tasty. It needed some frosting or at least some brown sugar on it, but I was out of both. While I'd been over-medicating myself with a TV cooking show marathon, I'd seen a big haired silvery-grey lady with an extreme southern drawl add a stick of butter to her oatmeal. She had smacked her lips and said it was 'out of this world, ya'll'. I looked in the fridge but I was out of butter, too, so I suffered and ate the oatmeal plain. And then, just to feel extra healthy, I made myself take my vitamins and drink a big glass of water.
I was ready.
I took out my legal pad and read over all my scribbled notes from the night before. Don't you hate when you write yourself notes and then later you read them and have absolutely no idea what you meant? I tore off those two pages, crumpled them up and tossed them on the floor. When did I become such a pig? Really. I made myself get up, retrieve the papers and put them in the trash can. Now I was officially ready to start writing stuff down. Pencil poised, I sat. And I sat. And finally I laid my pencil down. "Pearl, no 'cupcaking out' here," I admonished myself , "Just begin. You can never get anywhere if you don't start somewhere." When I give my big interview about starting my blog, I'll say I meditated for a moment, and then repeated the mantra "the journey of a thousand miles begins with just one step" for inspiration.
I wrote that down on the first page of my legal pad. It looked nice written there at the top of the page. I wrote it again several more times. I wondered why legal pads are yellow. Wouldn't pink or a pale leaf green be prettier? I wonder if there might be a blog about legal pads? Probably. I'd definitely look, after I'd figured out all the stuff I needed to know to start my blog.
I started writing: where do I buy a blog; how much does it cost; what can this blog be named; what the heck is it going to be about? Then I sat again for awhile. "OK, Pearl, that's enough. Figure all that out and then you can move forward."
I pulled my laptop from the debris surrounding the couch and hauled it into the kitchen almost forcing myself out of the living room. Seriously, that couch was just screaming my name. It's amazing how loud a couch can get when it's feeling neglected.
Once I began looking for answers, I found out all kinds of things. You can either use a free blog service or pay for one. That was an easy choice for me. Free is always my first option. I found a bunch of companies offering free blog service. Yesterday I'd noticed that a lot of blogs in Blogland used the same one and that seemed good enough to me.
OK. Check! I now knew where to get my blog and how much it would cost.
Next, a blog name. Blog name. Hmmm… Pearl's … Pearl's what? The cursor on my screen just blinked at me. It was absolutely no help at all.
I tried saying it out loud. "Pearl's blah, blah blog". Nothing. That gave me no inspiration whatsoever. "Pearl's Petunias"? "Pearl's Pickles"? OK. So maybe alliteration wasn't the way to go. This required a lot more thought then I'd imagined it would. "Pearl's Perspective"? Geez. I couldn't get away from the P's it seemed, but that last one didn't sound too horrible. I wrote it down. Man! This blog stuff was difficult! I poured more coffee and fat-free Half and Half in my mug, hoping the caffeine would jolt me out of my perilous plight. See what I mean? The P's were all I could think of and all that caffeine seemed to make the letter "P" stutter even more inside my blog-name stymied brain cells. "Pearl's Plight"? "Pearl Plows"? "Pearl's Ponderous Pillows"? I was stumped! Totally stumped!
"Pearl, think!" I chastised myself. I retrieved my crumpled up lists from the garbage can in the kitchen. I'd found some pretty clever names when I was looking at blogs, but now I wondered how in the world bloggers come up with something witty when all the good names were taken?
I went back to the kitchen and grabbed an empty trash bag, thinking maybe cleaning up would give me inspiration. Avoiding eye contact with the TV, I collected empty boxes and bags and crumpled up napkins. I thought and thought about blog names. Pearl… Pearl's…Pearl's what? Wait! Hold on!
When I was a little girl, my Dad used to call me his little oyster. So what word goes with 'oyster'? I can't even think of any words that start with the letter "O" except ummm… ummm… Geez, oyster is even harder than 'Pearl'! Think, Pearl, think!
I went to my laptop and googled the world 'pearl'. I learn that a natural pearl gets started when a foreign substance somehow gets into the shell of an oyster, almost like when you get a splinter in your finger. The oyster doesn't have tweezers to remove the splinter, so it begins coating the irritant in nacre, the shiny stuff that is inside the oyster shell. After awhile the irritant becomes something beautiful. Ta da! The irritation becomes a pearl. I liked the analogy of the oyster. I know all about irritation. There's nothing more irritating then having your husband "sink his submarine in the graveyards of the sea".
I thought I might call my blog "My Life Inside an Oyster". I headed back to my laptop, typed in my potential blog name and discovered it was available. I wasn't sure about it; was it a dumb name? I thought about calling Sheila back to get her opinion. Then I considered purchasing a Ouija board or a Magic 8 ball so I could communicate with my husband from the 'great beyond' and ask him what he thought. Consulting my friends was out of the question, for fear they'd show up with a casserole and a side dish of unwanted advice. And I couldn't ask my daughter because she'd know I'd been lying about blogging in the first place. "My Life Inside an Oyster", it would be!
I thought I knew what I wanted to write about: diversionary things I should do, or might do, or could do. Tactical words that would keep my daughter from worrying. If I wrote what was really going on with me, it would make her hop into her car and break the speed limit all the way to my house, probably crying and hiccupping the whole time.
The possibilities of things I could write about, but not actually do, were totally endless.
I was definitely getting much closer to writing fiction.
To be continued, Tuesday, October 12.
(c) 2010 Jennifer R. Matlock
This publication is the exclusive property of Jennifer R. Matlock and is protected
under the US Copyright Act of 1976 and all other applicable international, federal, state and local laws. The contents of this post/story may not be reproduced as a whole or in part, by any means whatsoever, without consent of the author, Jennifer R. Matlock. All rights reserved.