If you missed TALES FROM HOME - Chapter 9 just
click here
to read it!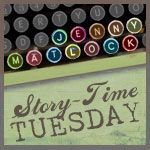 TALES FROM HOME - Chapter Ten
As the sound of Riley's voice filled the bedroom at the top of the stairs, Julia and Morgan untangled their "pretzeled" arms and legs.
Morgan snuggled deeper into the pillow to fall back asleep, but Julia shook her gently awake. As the youngest sister opened one dark blue eye through a snarl of blonde hair, the oldest sister looked around the room with two critical eyes.
The wallpaper of faded pink roses looked like it could use a scrubbing. The quilt, pillow and sheets on the old bed looked like they could use a washing. The grimy window panes could definitely use a polishing and the rocking chair, table and marble-topped dresser were absolutely in need of a dusting.
"Morgan, get up! We need to have a meeting," bossed Julia. Morgan was still small enough to mind her older sister, but getting big enough to be a bit sassy. "Fine," she grumbled as she reluctantly sat up in bed. Riley burst through the bedroom door, though, before the two sisters could even put a foot on the old floorboards.
"Get up! Get up!" she yelled, "The storm is over…I saw some strawberries…We need to check on the chipmunks…I'm hungry…"
Before she could continue her excited babbling, Julia interrupted her by saying, "Riley, stop a second, we need to talk about some stuff."
Riley climbed up with her sisters and all three girls bounced a bit and found comfortable spots on the old mattress.
"OK," Julia began, "I've been thinking. Maybe we should start on our way to..."
A cry of protest from both sisters interrupted Julia's little speech.
"No!" shouted Riley. "No!" shouted Morgan.
Julia held up a firm, big sister hand and said, "Let me finish."
But again, both little sisters protested.
Then Riley held up an even more determined middle sister hand. "Listen," she said, "I think we are supposed to stay here. Everything we need is here and…"
Julia encouraged her sister to continue. "And what Riley?"
"Wellllll… I don't know if this will make sense…but…ummm… I think this little house will help keep us safe."
Throughout this conversation, the hopeful little house had been wishing intently. "Oh please, please, please! Please let these little girls stay here with me!" And as Riley made her statement to her sisters, the hopeful little house almost held its breath.
"I don't know," Julia replied thoughtfully. "If we are going to stay here for awhile, there are a lot of things we have to do. I don't know if I can take care of us all here."
Quietly, Riley replied, "You don't have to take care of us, Julia. We can all take care of each other."
The hopeful little house's wishes filled the small bedroom. "Please, please, please…"
Julia hopped down from the bed and went to the grimy window. Her sisters watched her intently from their cross legged perch atop the faded quilt.
"Please, please, please…" the house's wishes continued.
At last Julia turned away from the window and said, "OK, but if we're going to stay we need to have a plan!"
In the midst of the excited hugging and shouting that followed her words, none of the little girls could hear the whispered thanks for wishes granted that swirled throughout the happy little house.
"C'mon," Julia shouted, "Let's go make a plan."
As all three girls thumped and bumped down the steps; their loud chatter startled the Mother Chipmunk hiding in the lower cupboard.
Armed with a notepad and pencil retrieved from Julia's old purple backpack on the kitchen table, they headed out onto the front porch and frightened the small, skinny calico cat sunning on the stone step.
There is nothing more exciting than making a plan when you've been living without one for a long time. The girls were excited to begin.
In the warm late spring sunshine, the girls worked together and this is the plan they came up with:
Morgan was determined to add two more things to the list. "Put down number five! Number five and number six! You need to write down "play" and "take care of the animals".
Julia told her sister, "First we do our work and then we do our play. But I will add number five – "Take care of animals". And she did.
Morgan stomped her foot. "What if we forget to play?" she said, "Write it down, write it down!"
And so, Riley, picked up the pencil and wrote number 6 on the list.
Together the girls went into the kitchen and hung the list carefully on a small nail beside the back door.
And then, together, they went outside to start with number one on their list!
To be continued on Tuesday, June 28.
(c) 2010 Jennifer R. Matlock
This publication is the exclusive property of Jennifer R. Matlock and is protected
under the US Copyright Act of 1976 and all other applicable international, federal, state and local laws. The contents of this post/story may not be reproduced as a whole or in part, by any means whatsoever, without consent of the author, Jennifer R. Matlock. All rights reserved.