If you missed STORIES FROM HOME - Chapter 8 just
Click here to read it!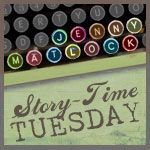 STORIES FROM HOME - Chapter Nine
The next morning, the sun shone weakly through the grimy window panes, waking Riley from her restless sleep.
She quietly climbed out of bed and tiptoed down the stairs without her usual bright energy. Not even glancing at the bottom cupboard and the adorable baby chipmunks, she walked silently through the kitchen and opened the back kitchen door.
Instead of jumping down the three stone steps, Riley just leaned against the peeling paint of the little house. Her eyes seemed more gray than blue today and didn't seem to notice that the storm had passed.
White, puffy clouds wandered across a pure, brilliant blue sky in the breeze and were reflected in the many mud puddles left behind. We all know that mud puddles attract small children like magnets, but if Riley noticed their inviting presence, she gave no sign.
She just leaned quietly against the sturdy little house lost in thought.
Even though Riley was just a little girl, it seemed she already knew that sometimes, although we fear being alone when we are troubled, silence and a bit of quiet is just what is needed to sort through jumbled thoughts.
And so she leaned, lost in contemplation. After several, long moments had passed, she closed her eyes and finally the whispered the question that was most bothering her into the fresh, morning air, "Who is going to take care of us?"
Almost immediately it felt like someone clearly whispered an answer back to her! The answer she heard was, "You are going to take care of yourself. And I am going to help you."
The words Riley heard were so clear and strong that her eyes popped open and she looked around. She was alone, but somehow she didn't feel frightened anymore.
With a hop and a skip she rushed back through the kitchen and into the little hallway!
"Julia, Morgan! Wake up!" she yelled loudly.
And as her loud and happy voice filled the room, it felt like the hopeful, little house was surrounding her with a smile.
To be continued on Tuesday, June 21.
(c) 2010 Jennifer R. Matlock
This publication is the exclusive property of Jennifer R. Matlock and is protected
under the US Copyright Act of 1976 and all other applicable international, federal, state and local laws. The contents of this post/story may not be reproduced as a whole or in part, by any means whatsoever, without consent of the author, Jennifer R. Matlock. All rights reserved.