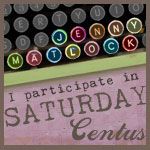 Welcome to week seventy-five of Saturday Centus. Ok, so yeah...I went from shingles to cold to flu and now onto pleurisy so I am still behind on the reading. I promise, promise I'll get to yours, though. Being sick can't last forever, right? Besides, it's kind of worth it...my Dad always told me I was too mean to get sick...it's good to know he was wrong about that - ha!
This week I will continue with a more 'traditional' prompt cuz my creative mojo is kinda/sorta worn out.
WORD COUNT - 100 WORDS PLUS THE THREE WORDS OF THE PROMPT. Total word count not to exceed 103 words.
STYLE OF WRITING - ANY
USE A PICTURE THIS WEEK IF YOU LIKE
THE PROMPT THIS WEEK IS: "Friday night football"
The regular restrictions apply: PG, no splitting of the prompt, play nicely and visit the other entries, any style or genre of writing you prefer.
Please display my link button or just a hyper-link back to Saturday Centus. Be careful to link your SC URL to the Linky and not just link to your main blog.
E-mail me directly with ???'s or ask your question in a comment and I will do my best to get back to you as soon as possible.
Feel free to link up anytime between now and next Saturday!