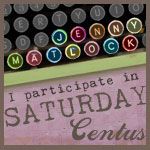 Welcome to week seventy-four of Saturday Centus. I ended up having the flu most of the week so not only did I not get to link my dialogue story, I haven't even read yours! But I will be by soon!
This week I will resort to a more 'traditional' prompt.
WORD COUNT - 100 WORDS PLUS THE TEN WORDS OF THE PROMPT. Total word count not to exceed 110 words.
STYLE OF WRITING - ANY
USE A PICTURE THIS WEEK IF YOU LIKE
THE PROMPT THIS WEEK IS: "The number you have reached is no longer in service"
The regular restrictions apply: PG, no splitting of the prompt, play nicely and visit the other entries, any style or genre of writing you prefer.
Please display my link button or just a hyper-link back to Saturday Centus. Be careful to link your SC URL to the Linky and not just link to your main blog.
E-mail me directly with ???'s or ask your question in a comment and I will do my best to get back to you as soon as possible.
Feel free to link up anytime between now and next Saturday!