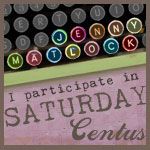 Welcome to week seventy-eight of Saturday Centus.
So...
Back about 100 years ago when I was in high school we wore something called a micro-mini. It was a skirt so short that it generally involved wearing hot pants underneath because without the hot-pants people could pretty much see... well... darned near everything.
I was especially traumatized as a teenager because my Grandmother persisted in sewing ruffles onto the bottom of my skirts to make them longer...
Which I, of course, would remove with a seam-ripper on the way to school.
Ahhhh...the sweet memories of troubled teen years.
But I digress.
In honor of those years...
...and because it's close to Halloween...
...and knowing not everybody digs Halloween...or even celebrates Halloween...
I thought I would give you a little 'trick' anyway.
Because I'm cool like that.
And because about 100 years ago I wore micro-mini skirts really, really well.
This week we're doing a picture prompt.
Now I know you're gonna look at this picture and think it didn't load correctly.
It did.
This is really the picture.
And don't roll your eyes at me, Missy.
THE PROMPT THIS WEEK IS THE ABOVE PICTURE. I LIKE TO CALL IT 'STUDY IN BLACK'
WORD COUNT - Not to exceed 25 words. Yes, that is correct. 2. 5. Twenty-five. XXV.
STYLE OF WRITING - Any
NO ADDITIONAL PICTURES

The regular restrictions apply: PG, no splitting of the prompt, play nicely and visit the other entries, any style or genre of writing you prefer.
Please display my link button or just a hyper-link back to Saturday Centus. Be careful to link your SC URL to the Linky and not just link to your main blog.
E-mail me directly with ???'s or ask your question in a comment and I will do my best to get back to you as soon as possible.
Good luck!
Oh, and yeah. I love you, too!
mwahahahahahahahahahahahahahahahahahaha, my pretty!
Feel free to link up anytime between now and next Saturday!