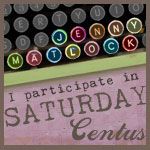 Welcome to week ONE HUNDRED AND SEVENTY-ONE of Saturday Centus.
This weeks prompt seems like it should lend itself to Sci-Fi, but let's make it a little bit harder.
Okay?
Anyway...
Number of words: No more than 107 total (including the 5 words of the prompt)
Style of writing: Romance (yeah, I know...the heat is getting to me! You can listen to the song on You-tube (link on prompt) for romantic inspiration - MWAHAHAHAHAHAHAHA!)
Additional Pictures: Any

The regular restrictions apply: PG, no splitting of the prompt, play nicely and visit the other entries, any style or genre of writing you prefer.
Please display my link button or just a hyper-link back to Saturday Centus. Be careful to link your SC URL to the Linky and not just link to your main blog.
E-mail me directly with ???'s or ask your question in a comment and I will do my best to get back to you as soon as possible.
Feel free to link up any time between now and next Saturday...