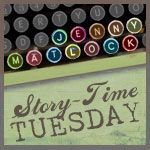 If you missed Chapter 1A of Writing Fiction, just
click here
to read it.
Now...
With no further ado...
I give you...
Writing Fiction - Chapter 1B
Some of my friends used to ask me how I was really doing. They'd put their casserole in the fridge and then lead me gently to a kitchen chair. "Talk to me," they'd say with the number "11" etched between their solemn, caring eyes. "Tell me how you're really doing." But I learned early on that's not what they were really asking me. They were really asking me to tell them what they wanted to hear: that I was doing just fine, thank you very much for asking.
Whenever I told one of them the actual truth of my soul, their mournful eyes morphed into worried, raised-eyebrow astonishment. "Really, Pearl, you don't mean that. You don't want to die. You have so much to live for," they'd insist. "Oh heavens, Pearl, let me find someone to help you through this. You're not old! You're in the prime of your life. Are you taking those anti-depressants the doctor gave you?"
Between you and me, I think sometimes they asked me how I was so they could tell me how quickly and heroically they'd recovered from great personal loss, or how surprising unsuccessful I was at the actual grieving process. Oh, they never came right out and called me a big, fat failure, but often, right after they'd tell me I was in the prime of my life, they'd regale me with a story of how their sister's neighbor's daughter-in-law's house burned down (with several scalloped ham and potato casseroles inside), right after she'd lost her entire family because a plane part fell from the sky; and three months later she was giving belly dancing lessons and loving life! "Would you like me to get her e-mail or phone number for you, sweetie?" they'd ask. "I'm sure she can get you into one of her classes. It's time to make some changes, dear."
Well, geez. Anyone could recover from a single, incredibly dramatic loss. How else would you be able to look wan, wistful and ethereal for your interviews when the made-for-TV movie people started knocking at your door? Of course she took up belly dancing!
But how are you supposed to find the energy to taking belly dancing lessons after enduring hundreds of small, non-dramatic deaths every single day? Do the made-for-TV movie people care that figuring out where my husband kept the light bulbs is cause for dissolving into tears? Does anyone care that every time I forget to take the recycling bin out to the curb leaves me so upset that pop tarts don't even help
During the time following my husband 'terminating his contract' before 'heading to the pearly gates', I not only found out I was a failure at grief, I also discovered I was a violent person. Even as I made the correct noises and conciliatory remarks during visits from caring friends, I just wanted to give their casseroles right back by squashing them over their heads. I've read the chapters about anger in books about grief, but nowhere does it address casserole squashing.
And right after I recognized those two big character flaws in myself, I found out that three times must be indeed the charm, when I discovered I had also become a failure at being a Mom.
To be continued, Tuesday, September 14.
A bit question for you all. Do you like reading a whole chapter at once even though it's long or do you like it split up like this? Just wanted to get your opinion. Thanks!(c) 2010 Jennifer R. Matlock
This publication is the exclusive property of Jennifer R. Matlock and is protected
under the US Copyright Act of 1976 and all other applicable international, federal, state and local laws. The contents of this post/story may not be reproduced as a whole or in part, by any means whatsoever, without consent of the author, Jennifer R. Matlock. All rights reserved.