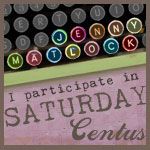 Welcome to week thirty-nine of Saturday Centus.
OK, I'm going to be nice this week. Actually, I should say that
Judie
is going to be nice this week.
Yup, you can't be irritated at me this week at all, because Miss Judie, from
Rogue Artists Speak
, wrote the prompt...and you don't have to do Sci-fi AND you get your full 100 words (plus the prompt)! Write in any genre in any style you wish...fiction, non-fiction, poetry or even sci-fi!
The prompt is:
"She lifted the stack of letters from the ancient chest..."
Thanks, Judie. This is going to be a fun one to work with!
You have the entire week to link your work to the meme and you can link more than one story if you like. Please try mightily to visit all the other weeks.
Please display link button or just a hyper-link back to Saturday Centus. Be careful to link your SC URL to the Linky and not just link to your main blog.
Please e-mail me directly with ???'s or ask your question in a comment and I will do my best to get back to you as soon as possible.
Link anytime between now and next Saturday morning.