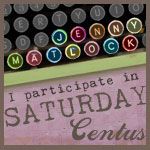 Welcome to week ONE HUNDRED AND TWENTY ONE of Saturday Centus.
Gosh, I've fallen behind reading again. Sorry. Things are crazy around this house.
Sigh...
Catching up on SC's is fourth on my list for the weekend so hopefully I'll be by in the next few days.
Gosh. Disappearing letters was pretty hard.
Maybe this week we should use ALL the letters.
Here's this weeks challenge:
WORD COUNT - Not to exceed 126
STYLE OF WRITING - Any
MUST USE - Every single letter of the alphabet in your little story.
PICTURES - Any
The regular restrictions apply: PG, no splitting of the prompt, play nicely and visit the other entries, any style or genre of writing you prefer. Please display my link button or just a hyper-link back to Saturday Centus. Be careful to link your SC URL to the Linky and not just link to your main blog.
E-mail me directly with ???'s or ask your question in a comment and I will do my best to get back to you as soon as possible.
Feel free to link up anytime between now and next Saturday.