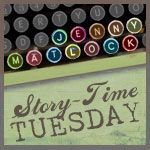 Gud murninga.
Iz Pearl.
I hab a bewwy, bewwy bad colda.
Miss Jenny cud nod unnerstanda me so I cud tell you my stowwy.
I'ma nod 'cupcaking outa' hewe, I'm just sick as a dod.
I'll be backa nexth week.
(c) 2010 Jennifer R. Matlock
This publication is the exclusive property of Jennifer R. Matlock and is protected
under the US Copyright Act of 1976 and all other applicable international, federal, state and local laws. The contents of this post/story may not be reproduced as a whole or in part, by any means whatsoever, without consent of the author, Jennifer R. Matlock. All rights reserved.