If you missed STORIES FROM HOME - Chapter Three,
just click here
.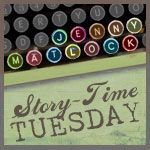 STORIES FROM HOME - Chapter Four
Throughout the afternoon the sad little house had done its best to see through the tall weeds and the cool green summer leaves.
Mesmerized by the happy sounds of children talking and laughing, the sad little house barely saw the afternoon shadows grow longer.
It was only as the sounds became quieter that the sad little house noticed the sky was alight with the beginning sunset's rosy-pink glow.
As the sky grew more beautiful the sounds disappeared completely and the sad little house grew lonely and started to despair.
Perhaps the sounds of children had never been real. Perhaps the noises had only been imagination and dreams trying to come true.
The sad little house already knew, though, that wishing something doesn't always make it so.
But sometimes wishing is all there is…
And so…as the fireflies started their twinkling dance in the cooling evening air, the sad little house made one last, tiny wish for the day, "Oh, I hope the calico cat comes and lays on my porch again tonight!"
When the tall weeds at the edge of the woods parted, the sad little house was certain its wish was coming true.
But suddenly the sad little house realized it was not the cat coming to visit, but instead three children standing at the edge of the woods with their mouths forming perfect "ohs"!
The three little girls had stopped suddenly when they saw the little house.
In the last pink glow of the sunset, the girls did not notice the paint peeling into little drifts of grey.
Alight with the twinkle of fireflies, the little girls did not notice the tall weeds growing around the little house.
And in the cool evening air the little porched looked welcoming, and not the least bit weathered and worn.
And so…they cautiously left the woods and took several steps toward the little house.
To be continued on Tuesday, May 18.
(c) 2010 Jennifer R. Matlock
This publication is the exclusive property of Jennifer R. Matlock and is protected
under the US Copyright Act of 1976 and all other applicable international, federal, state and local laws. The contents of this post/story may not be reproduced as a whole or in part, by any means whatsoever, without consent of the author, Jennifer R. Matlock. All rights reserved.