If you missed STORIES FROM HOME - Chapter Two
just click here
.
Read Chapter 3 by
just clicking here.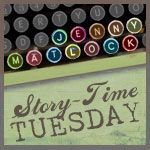 STORIES FROM HOME - Chapter Three
Julia gave a loud, happy shout when she saw the old piece of rope dangling down from the giant tree growing beside the little pond with blue-mirrored water. She quickly covered her mouth. She had not meant to be so loud!
She tipped her freckled face back and looked way up to the top where the bright green buds had started growing into cool, lovely summer leaves.
"Oh," she whispered quietly to herself, "There were children here before…and this was their swing."
She glanced back toward the woods, and then continued to explore.
Large rocks at the edge of the pond looked like a good place to rest for awhile.
Clambering up onto the rough, grey surface of the biggest rock, she dropped her heavy, purple backpack with a thud.
Although she was tempted to lay down and use the pack for a pillow, she decided, instead, to take off her dusty socks and tennis shoes . Her feet were hot and tired. The idea of wiggling her toes in the cool, blue water of the little pond was too wonderful to resist. When her grubby bare feet touched the cool water she gave a quiet, little laugh.
Julia's big, blue eyes closed for a minute in sheer delight. Her curly, dark red hair danced in the breeze while her little, white toes danced in the water.
Julia had always had a good imagination and it didn't take her long to picture children playing on these rocks and swinging on the old piece of rope. It felt like a happy place to be.
A whispered little, "Pssst!" startled her.
When she looked toward the noise, she saw the face of her sister, Riley, peeking out around a tree trunk at the edge of the little woods.
"Julia!" Riley whispered loudly, "What are you doing? Can I come out now?"
Julia tried to ignore her sister for a moment because, sometimes, that's just what sisters do.
But then she said, "Sure, Riley, come out."
Riley walked out of the little woods slowly. She was tired, too. It felt like she had been walking for a long, long time.
Riley's wavy, strawberry-blond hair was pulled back into a ponytail. Her gray-blue eyes glanced behind her to the woods, but then she looked around in curiousity at the little pond's blue-mirrored water and the big rock on which her sister was sitting.
"Julia!" Riley said, "You have your feet in the water! I want to put my feet in the water! Why can't I put my feet in the water? Can I? Can I?"
Julie just grinned a big "Yes" at her sister and then she pointed to the rope dangling from the giant tree.
Riley's eyes got big and round and she gave an excited squeak! "Julia! There must have been little kids here before!" Julia nodded her head in agreement.
Riley's battered, pink backpack, shoes and socks were quickly taken off and thrown down beside her sister's.
Ten more little wiggling white toes joined in, splashing the cool, blue-mirrored water.
A moment later, both girls jumped when they heard a loud, "Hey, what about me?" coming from the edge of the woods.
Marching out of the woods came the littlest sister, Morgan. Her blonde hair shone brightly in the May sunshine. She looked back at the trees while her determined feet stomped across the distance between the woods and the blue-mirrored pond.
"Why am I always last?" she shouted.
"Ssssshhhhh…" both her sisters replied.
"I don't care!" she said, "I'm not going to ssssshhhh and I'm tired of being last! And I'm tired of walking! And I'm tired of no-one giving me a piggy-back ride! And my feet are hot and…"
Riley interrupted her little sister by holding out a hand to help her up onto the big, grey rock.
Morgan threw her faded rainbow-striped backpack and grimy tennis shoes onto the pile and then looked back again at the woods. Her big, dark blue eyes were serious and worried.
"Julia! What about…" she blurted out.
But Julia interrupted her by saying, "Morgan, you have to quit shouting! We don't know if it's OK for us to be here!"
But Morgan persisted. "Riley! What about…"
But Julia stopped her again. "Morgan! Stop talking so loudly!"
Letting out a wail, Morgan tried one more time. "Julia, Riley! What about…"
She stopped talking when she finally saw her new pal coming from the woods. "Mr. Cat!" Morgan cried, when she saw her skinny, little calico friend.
Mr. Cat jumped up on the big, grey rock with all three little girls.
The golden afternoon passed quickly as it does so often in childhood.
There were slippery, silvery minnows to catch. There was the rope swing to play Tarzan on. Mr. Cat tried to catch the bugs the girls were watching. And the skinny, little calico cat even let the girls put wreaths made of wild-flowers on his furry head.
As the magic of imagination made rocks into houses and tall weeds into fairy fortresses, the minutes turned into hours and the afternoon shadows grew long.
It was only when the mirrored-blue surface of the little pond reflected a beautiful rosy-pink sunset that the three girls recognized how late it had become.
They gathered on the big rock. Riley quickly began putting on her shoes and socks and Julia began to help Morgan with hers.
The girls were quiet now and their eyes had grown big and round with worry.
As the shadows lengthened, Mr. Cat began meowing insistently.
The girls tried to shush him so they could talk, but he would not be quieted.
After a few moments of persistent, loud meows he started walking very slowly through the tall weeds.
"Julia, Morgan!" Riley said, "I think Mr. Cat wants us to follow him!"
Julie ignored her sister, because sometimes that's just what sisters do, and began to put on her own shoes and socks.
But just as she was getting ready to put on the last sock, Mr. Cat came back, jumped up onto the big, grey rock and pulled the sock from her hand with his teeth. He was too fast for Julia, and ran off with the dirty, white sock dangling from his mouth.
This time when he ran, all three girls grabbed their backpacks to follow. Julia hurriedly led the other two girls, single-file through the tall weeds.
Darkness was falling very quickly now.
Just when the girls thought they had lost Mr. Cat, they heard his loud meows up ahead.
The girls walked a few more steps toward the meows when, suddenly, Julia stopped in her tracks.
Riley bumped into Julia.
Morgan bumped into Riley.
And all three little girls looked up together in total surprise.
To be continued on Tuesday, May 11.
(c) 2010 Jennifer R. Matlock
This publication is the exclusive property of Jennifer R. Matlock and is protected
under the US Copyright Act of 1976 and all other applicable international, federal, state and local laws. The contents of this post/story may not be reproduced as a whole or in part, by any means whatsoever, without consent of the author, Jennifer R. Matlock. All rights reserved.