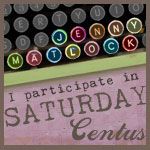 Welcome to the tenth week of Saturday Centus. We are going to celebrate with something a little different to shake things up. Normal programming will resume July 17th.
This is a themed writing meme as usual.
But this weeks challenge will be not only tied to a genre but you can have an additional 100 words to use if you want them.
Each linked essay must be 200 words or less, not including the "prompt" words and written in the Harlequin Romance style. (Yea, Tom, this one is for you!) Go ahead and do your "bodice ripping" but just don't use any profanity. No pictures as always. The prompt words can be used in any place within your story but must be left intact. You cannot split the prompt. What a fun challenge. If you don't write romance or haven't read an HR before here's a little sample to help you step out of your comfort zone and mimic some of the cheesiest..."Their eyes met across a crowded rooms. His eyes slipped lower to the heaving orbs straining the buttons of her flimsy shirt. The ran across the room and collided together into an explosion of sparks and passion. As the sun set... blah, blah, blah!"
It's a shake up! It will be fun!
Please display SC link button or just a hyper-link back to Saturday Centus. Be careful to link your SC URL to the Linky and not just link to your main blog.
And we can't really do a shake-up week without a prize so all linked SC's will go into a drawing for the book "The Wishing Years" by bloglands very own Coralie Cederna Johnson. And while Wishing Years is not a Harlequin Romance it is a wonderful journey to small-town USA in the 40's and 50's.
Here's the prize!
Coralie has two blogs and is an active participant in Alphabe-Thursday! You can visit Vintage Cottage Home by
clicking here
and then follow the link to her vintage recipe blog!
I'm certain these are going to be really fun reads this week so PLEASE make an effort this week to visit EACH and EVERY entry.
The link will be live from this morning until 8 AM MST, July 17. Drawing will be conducted sometime over the weekend after the link closes for a copy of Coralie's book.
Please e-mail me directly with ???'s or ask your question in a comment and I will do my best to get back to you as soon as possible.
WEEK 10 Shake Up! PROMPT

"When I turned around I was startled to meet a green eyed gaze..."
You have until next Saturday morning to link your post! Have fun!