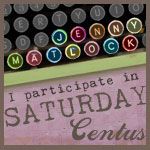 Tom wrote the prompt this week. I had a difficult time with this short story until I just let my mind go its own direction! Tom, you made us work! The prompt is in bold below.
* * * * * * * * * * * *
When my children were young we did a lot of road trips. Put three kids in a beat-up old sedan and
driving six hours is a long time on the road. Six hours spent singing car-aoke and taking in the picturesque scenery, but mostly reminiscing about the good times.

But those days were long gone and my mind was in a different place now. Or was it? My pulse quickened as I passed the road sign which read "Medford 27 miles."
I had not planned on stopping, but maybe I would. Thirty minutes later I turned into the facility.
After the stern-faced guard patted me down, I stepped up to the heavy metal door. "Remember," he said grimly, "Don't touch, hug or kiss the prisoners."
In the long moments waiting for the buzz of the door to release me into the prison visitation room, I smiled to myself.
In the litany of "don'ts", the guard hadn't cautioned me against singing.
* * * * * * *
This short, short story is exactly 100 words - not including the prompt.
To read other Saturday Centus stories for week 12, just
click here
!