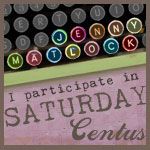 Welcome to the ninth week of Saturday Centus.
This is a themed writing meme.
Each Saturday you will be giving a new "prompt" for the week and you have the entire week to link your work to the meme and you can link more than one story if you like.
We have a guest "prompt writer" this week. Our very own Sami wrote todays prompt and it's a fun one! Thanks Sami!
Each linked essay must be 100 words or less, not including the "prompt" words. No pictures should be used. No profanity. The prompt words can be used in any place within your story but must be left intact. You cannot split the prompt.
Please display link button or just a hyper-link back to Saturday Centus. Be careful to link your SC URL to the Linky and not just link to your main blog.
I would suggest that since these are so short, if you can't think of a title just use your blog name as the title in the Linky.
Try to visit each one because they are tremendous and since they are so short they are definitely a quick read!
Please e-mail me directly with ???'s or ask your question in a comment and I will do my best to get back to you as soon as possible.
WEEK 9 PROMPT

"Are you sure that's the one you want?"

I felt a little lump in my throat as I peered down at my choice, held tightly in my hand. I didn't think this would be so nerve-wracking. Was I making the wrong decision? I couldn't agonize over this any longer.

I took a deep breath before managing to say, "... Yes, it is."

This link will be live until next Saturday morning around 7 am. And please, remember to link to your SC URL...not your main blog. If you are unsure how to do this please leave me a message in the comments or e-mail me and I'll help you through it! Have fun!