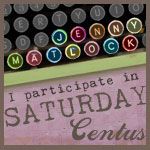 Welcome to week eighty-nine of Saturday Centus.
I am having a wicked time visiting blogs for some reason. Hopefully blogger will be more cooperative over the weekend.
So...
Last week we tried using the cliffhanger literary device...
...and hopefully you literally left us hanging.
There is no official prompt this week. Just a continuation of last weeks story.
...and because I want to challenge you AGAIN...
What about if we do the conclusion in fifty words.
Yes.
Five zero.
I was going to do ten but I thought you'd all throw a revolt.
So...
THE PROMPT THIS WEEK IS A CONTINUATION OF YOUR STORY USING: Hanging off a cliff!
WORD COUNT - Not to exceed 50 words total.
STYLE OF WRITING - Any
ADDITIONAL PICTURES IF DESIRED



The regular restrictions apply: PG, no splitting of the prompt, play nicely and visit the other entries, any style or genre of writing you prefer.

Please display my link button or just a hyper-link back to Saturday Centus. Be careful to link your SC URL to the Linky and not just link to your main blog.

E-mail me directly with ???'s or ask your question in a comment and I will do my best to get back to you as soon as possible.

Feel free to link up anytime between now and next Saturday!