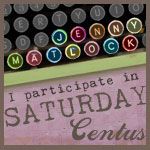 Welcome to week ninety of Saturday Centus.
Please consider this picture as an official olive branch between us.
Mea culpa! Mea culpa!
Since I simply cannot bring myself to use the phrase 'my bad' as an apology, all that remains is for me to say,"I'M SORRY!!!! I'M A JERK!!! AND A LIAR!!!!!!!!!!!!"
Our nightmare of
kitchen destruction
happened last Friday when I wrote the instructions for week 89. And, yes, that is my excuse. I did write you could use 100 words for part two, but then I reneged and made it 50.
Mea culpa, mea culpa!

But I'm hoping this weeks challenge redeems me.
Please consider this both a formal apology AND a challenge for this week.
How about an 'epilogue' to your cliff hanger?
You know...a new writing device for the week.
Epilogues are an inherent part of any story or poem and are essential to the structure of any written form. The epilogue is an important literary tool that acts as the afterword once the last chapter is over. The purpose of an epilogue is to add a little insight to some interesting developments that happen once the major plot is over.
So...
THE PROMPT THIS WEEK IS AN EPILOGUE OF BOTH PARTS OF YOUR CLIFFHANGER STORY
WORD COUNT - Since I cheated you on words last week, how about a few extra for this weeks prompt? Word count is not to exceed 150 words total.
STYLE OF WRITING - Any
ADDITIONAL PICTURES IF DESIRED


The regular restrictions apply: PG, no splitting of the prompt, play nicely and visit the other entries, any style or genre of writing you prefer.
Please display my link button or just a hyper-link back to Saturday Centus. Be careful to link your SC URL to the Linky and not just link to your main blog.
E-mail me directly with ???'s or ask your question in a comment and I will do my best to get back to you as soon as possible.
Feel free to link up anytime between now and next Saturday!
If you still like me, that is.
To quote one of our sweet Grandlittle's, I sorry.